I think a lot of fans are still not over yesterdays scintillating display against Manchester City in the Charity Shield.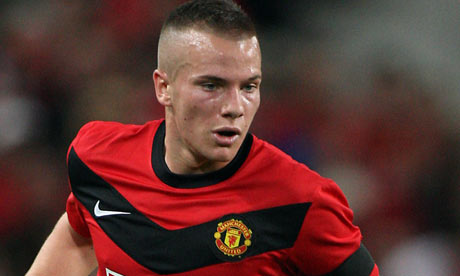 But what most are most impress is that for the first time, the team play with heart, purpose and invention.
And it had come when Carrick went off and Cleverley came on.
We have already seen glimpses of how Cleverley played during the friendly versus Barcelona which the team won 2-1.
He kept things simple
He passes well in congested areas
He passes fast and the moves free for the return pass
He gets into goal scoring positions
He chases and defends
Part of his defensive abilities stems from being played as a fullback in the earlier days moving up the rank. In fact, most youth team watches would be astonish how a fullback can blossom to such a central midfielder.
He was played a lot as a wide midfielder both at Wigan and Watford. This enables him to learn to make quick decisions and make quick passes.
So what we have now is a midfielder that links up the defence and attack and speeds things up.
Should he then replace Carrick in deep midfield?
I think it is just 2 good games, we have to see him play 5 and preferable against good opposition to make that judgement.
For one I think he complements Anderson, who seem to have a far great game with him next to him. I thought Anderson did much better than Cleverley.
What he needs to push himself above Carrick is
improve decision making. he needs to learn to control the tempo; when to speed things up and when to slow things down.
spread plays. that was why I rate Anderson higher because in modern football you cannot expect to always making incisive throughballs. Giggs was great because his crosses were very outstanding and resulted in a lot of assists.
Here is all Cleverley's touches versus Man City
What do you think? Do you think he is overhyped?