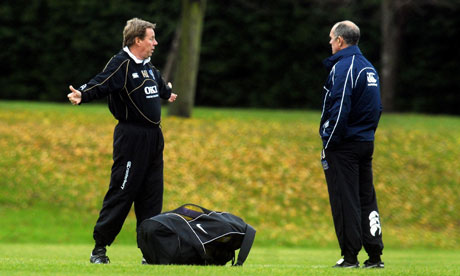 As observers, we often commented that our best players had an off day and it will not always occur, but teams wanting results would find out what is our most important link and break it.
We generally admit that our midfield isn't the best but teams are also set up accordingly to disrupt. It is only a matter of time before people see Rooney being that important link and design a system for it.
We sometimes see a problem but we really have different interpretation of the problem.
This article highlights that how important coaches are. Having a great backroom staff supporting is so important nowadays.
-----------------------------
A coach I once worked with arrived at the club with a dismal record against Arsenal and, as a result, seemed to have developed an unhealthy obsession with blunting their cutting edge. His gameplan was, in effect, very simple, but it relied on correctly identifying a specific Arsenal player and nullifying his threat; this, our coach said, was the key to victory. Toeing the party line, we began working on it in training, the idea being that, wherever Emmanuel Adebayor went, a centre-half would follow him, a midfield player would drop into the space left and a forward would then sit on the deepest lying midfielder to stop him getting the ball. We worked on it all week until we were sure we had got it spot-on.

On the Saturday we started the game full of confidence but conspired to lose the match with ease, Adebayor scoring a terrific goal in the process. Undeterred, our coach convinced the manager to stick with the same strategy in games against Chelsea and Manchester United, when we got favourable results.

For the record, the players that were singled out for the man-marking treatment in those two matches were Wayne Rooney and, perhaps most bizarrely of all, Claude Makelele, for whom we used an advanced midfielder.

The latter game was where our coach earned his money. The side effect of nullifying Makelele's strongest attributes – breaking up the play and giving the ball to his more adventurous team-mates – meant he would be unable to start any attacks. We were sceptical at first but, after watching a DVD showing the Frenchman winning the ball and setting Chelsea on the attack time and again, everyone bought into the idea that it may well be a sound tactic.

At the top level it can often take a team of editors and Prozone experts working around the clock to identify a single weakness in another team; anybody can watch a football match but not everybody is able to see why things are happening.

For all of the above to come to fruition, the coach needed the trust of the manager, which can never be taken as a given. There are managers at all levels who find it impossible to delegate even the simplest of tasks, from telling the chef how to cook pasta (which I have seen, by the way) to arguing with the club doctor or physio about the diagnosis of an injured player. Some are, to be blunt, control freaks.