Nani is turning out to be one of Manchester United's player of the season and this match against Aston Villa show that what Alex Ferguson sees him as more of a free player rather than an orthodox winger.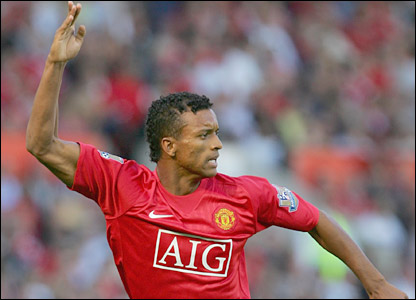 The Stretty Rant has a nice take no this:
One feature of Nani's game that can infuriate is his inconsistency when shooting. Recently he's been having efforts on goal but getting few on target. His poor shooting was at it's worst against Birmingham recently when 6 out of 8 efforts were off target. Last night however Nani was much less wasteful in front of goal. Despite not scoring he made Brad Freidel pull off a few very good saves. Here's Nani's improvement in front of goal in his last four league appearances (NB Spurs isn't included as he didn't have a single shot in the game):

The area of Nani's game that was impressive last night was his movement. Nani likes to cut inside but he's also disciplined at sticking wide when he needs to. He combined an all-area performance with accurate passing – only 5 of his 48 passes were unsuccessful (see diagram below).

What's intriguing is that 43% of Nani's play last night was in the centre of the pitch. Ronaldo was famously released by Ferguson with a free role to roam the centre of the pitch as well as the wings and this brought out the best in him. Is it possible that this could bring out the best in Nani? We've certainly seen signs of it this season.