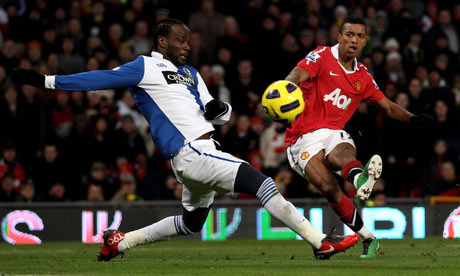 Here is a great piece this morning on our boy Nani, how far he came to becoming an important player for the club.
The United manager has often seemed disappointed with the development of a player he bought for £17m as a 20-year-old, either damning him with faint praise or highlighting his reservations through his selections. It is perhaps revealing, though, that Nani is still around after voicing his frustrations last year, the sort of speaking out of turn that led to the rapid departure of Jaap Stam and Ruud van Nistelrooy. If Ferguson has adopted a patient approach over a player who has only just turned 24, there have been distinct signs this season that the wait may not have been in vain. Nani not only seems to realise his responsibilities now, he has started to look capable of discharging them.

In the 7-1 rout of Blackburn last month Nani was probably United's best player, his contribution only overshadowed by the headlines commanded by Dimitar Berbatov's five goals. Nani scored a fine goal that day and made a couple more, the story of his season in miniature. His assists alone have earned him new respect at Old Trafford because he not only appears to have acquired unselfishness but decisiveness, the ability to select the right option then deliver.

Ferguson has noticed. "He's got better, that's the great thing," the United manager said. "He's always had pace, courage and great feet, but he's added a goal ratio to his game, which is important."

Arsène Wenger has noticed, too. A couple of Nani's best displays in this country have been against his team – not that everybody in north London has been impressed. After a fractious FA Cup tie two years ago William Gallas accused him of showboating and Gilberto Silva said he was a big-head. No shocks there, though it should also be recorded that Nani was man of the match with a goal and two assists.