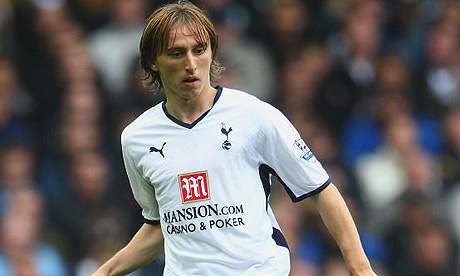 Here is a great little player that we have been linked to often. With our problems in central midfield and our often purchase from Tottenham Hotspurs one would think that with
Gareth Bale on the left
Van Der Vaart as a no 10
He would be surplus to requirements. Not so:
Joe Jordan, Redknapp's assistant, spoke on Friday of how he felt there was no more in-form midfielder in the country. Indeed there is symmetry and no little irony to the fact that Modric is flourishing in a similar position to the one in which he suffered such a disappointing start to his Tottenham career.

Redknapp's predecessor, Juande Ramos, generally played him as a central midfielder in a 4-4-2 formation alongside the attack-minded Jermaine Jenas, rather than as a No10, the role in which he had shone for Croatia in Euro 2008 qualification. It was Modric who masterminded England's destruction at Wembley in November 2007, on the wet and windy night when Steve McClaren infamously made the brolly the must-not-have touchline accessory.

Redknapp was somewhat derogatory about how Ramos used Modric and when he took over he stressed the importance of getting the 25-year-old on the ball. "He can make things happen – then he has got that ability to open the door," the manager said at the time.

He played him higher up the pitch, usually with a roaming brief from the left and, with some sweet nothings to bolster Modric's belief, saw him blossom.

Yet with Niko Kranjcar signed last season and in the second half of it, Bale coming to the fore, Redknapp switched Modric inside. And when Van der Vaart, an out-and-out No10, arrived at the end of last summer's transfer window and with Bale in fine form, Redknapp chose to accommodate Modric in a deeper role.
Passing Chalkboards:
vs Birmingham by Guardian Chalkboards
vs Liverpool: by Guardian Chalkboards